Hemodialysis
Catheter Kit


CD - 1002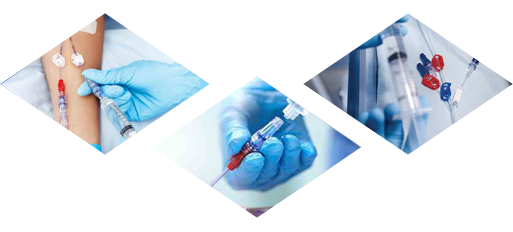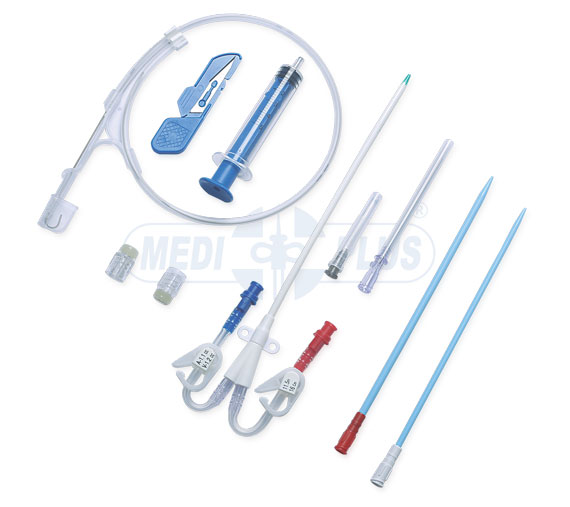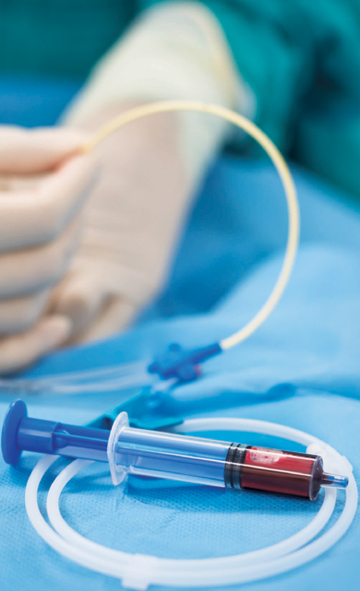 Description
Polyurethane material.
Soft, geometrically designed conical tip to ensure easy insertion and prevent catheter related trauma.
Hemodialysis catheter are single/double/multiple lumen catheter that provides temporary vascular access for hemodialysis until a permanent acress is available or until another type of dialysis therapy is substituted.
He multiple lumen catheter contains two large bore lumens that are connected to the dialysis machine to form a complete circuit for the removal and return of the patient's blood during treatment.
Clear silicon lumen extensions for enhanced visibility and safety. Sterile / Disposable / Individually Tray Packed.
Part No.
Dialysis Catheter
Dilator
Guidewire
Scalpel
Needle
Syringe
Straight Extension
MDC - S1070J 3 R
1 Lumen 7 F 13cms
8.5 F x 10 cm
0.035 x 70 cm
11 No. Thumb Blade
J8 G 7 rns
5 ml Syringe
MDC 5108016 R
1 Lumen 8 F 16cms
9 F x10 cm
0.035 x 70 cc
11 No. Thumb Blade
18 G 7 cms
5 ml Syringe
MDC - 5206511 R
2 Lumen 6.5 F Hems
7 F x10 cm
0 021 x 45 cm
11 No. Thumb Blade
18 G 7 r+s
5 ml Syringe
MDC 5208511 R
2 Lu+er 8.5 E Hems
9 E x10 cm
0.021 x 45 cm
11 No. Thumb Blade
18 G 7 cas
5 ml Syringe
MDC - 5211513 R
2 Lumen 11.5 F 13cms
11.5 F x 20 cm 10 F x15 cms
0.035 x 75 cm
11 No. Thumb Blade
18 G 7 r+s
5 ml Syringe
MDC 5212016 R
2 Lumen 12 E 16cms
11.5 E x 20 cm 10 Ex 15 cms
0.035 x 75 cm
11 No. Thumb Blade
18 G 7 cms
5 ml Syringe
MDC - 5312016 R
3 Lumen 12 F 16cems
11.5 F x 20 cm 10 F x15 cms
0.035 x 75 cm
11 No. Thumb Blade
18 G 7 r+s
5 nl S\ri g«
Corved Extension
MDC - 5206511 R
2 Lumen 6.5 F Hems
7 F x10 cm
0.021 x 45 cm
11 No. Thumb Blade
18 G mms
5 ml Syringe
MDC 5208511 R
2 Lumen 8.5 E Hems
9 E x10 cm
0.021 x 45 cm
11 No. Thumb Blade
18 G 7cms
5 ml Syringe
MDC - 5211513 R
2 Lumen 118.5 F 13cms
11.5 F x 20 cm 10 F x15 cms
0.035 x TO cm
11 No. Thumb Blade
18 G 7r+s
5 nl S\ri g«
MDC 5212016 R
2 Lumen 12 E 16cms
11.5 E x 20 cm 10 E x15 cms
0.035 x 70 cm
11 No. Thumb Blade
18 G 7cms
5 ml Syringe
MDC - 5312016 R
3 Lumen 12 F 16cms
11.5 F x 20 cm 10 F x15 cms
0.035 x 70 cm
11 No. Thumb Blade
18 G 7r+s
ml S\ri ge